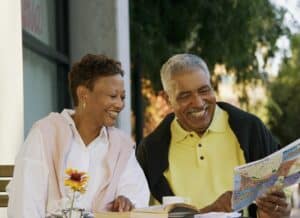 You may have heard a number of cautionary tales from your fellow retirees who have fallen into classic retirement pitfalls. Perhaps you, too, are wondering what financial traps may be lurking around the corner as you plan for your own retirement.
The good news is that you are already in the right place to start learning how your retirement planning could be vulnerable to these potential pitfalls.
Optimizing Social Security. Filing for your Social Security benefits before you reach your full retirement age can mean that you receive smaller monthly payments. Once you reach your full retirement age, your Social Security benefits are designed to rise about 8% for every year you delay receiving them. (1) Ultimately, deciding when to begin drawing your Social Security benefits relies on a variety of factors. This is a great topic to talk through with a financial planner, who can help you optimize your Social Security benefits with important considerations like your lifestyle, life expectancy, and legacy goals in mind.
Managing medical costs. One report estimates that a healthy couple retiring at age 65 can expect nearly $208,000 in out-of-pocket medical expenses during the course of their retirement, even with additional coverage such as Medicare Part D, Medigap, and dental insurance. Medical costs and the uncertainty that comes with them are a top concern for many retirees. Developing a holistic strategy can help you and your family better prepare for costly medical expenses that could be on the horizon. (2)
Understanding longevity. Actuaries at the Social Security Administration project that around a third of today's 65-year-olds will live to age 90, with about one in seven living 95 years or longer. Considering recent advancements in medicine, the prospect of a 20- or 30-year retirement has become increasingly likely. When we work with our clients at TRS, we expect this kind of longevity. In fact, our income plans are designed to map out every month of projected income until our clients reach the age of 100. With this in mind, our clients can realistically plan to live the fulfilled lives they've dreamed of. (3)
Managing other costs, like college. Many retirees look forward to providing financial support to other family members. If part of your retirement aspirations involves assisting with the cost of college for your children or grandchildren, be sure to review your entire financial picture. It's crucial to understand your anticipated income and costs before you commit to a long-term strategy. We recommend sitting down with a financial planner to help create a realistic approach to your financial goals. Keep in mind that planning for your retirement involves considering a number of different factors. The examples we've provided here are just a few of the elements that may impact your retirement. For a deeper dive into your unique situation, sign up for a complimentary visit with one of our financial planners today!
1. Social Security Administration, 2021
2. HealthView Services, 2021
3. LongevityIllustrator.org, 2021
This article is for informational purposes only and is not a replacement for real-life advice, so make sure to consult your tax, legal, and accounting professionals before modifying your investment strategy for tax considerations.
Investment advisory services and insurance services are provided through The Retirement Solution Inc., a Registered Investment Advisor. The Retirement Solution is a registered investment adviser and may only transact business and offer advisory services in those states in which it is registered or exempt from registration requirements. Insurance products and services are offered and sold through individually licensed appointed agents.
We are an independent firm helping individuals create retirement strategies using a variety of insurance and investment products to custom suit their needs and objectives. This material is intended to provide general information to help you understand basic financial planning strategies and should not be construed as financial or investment advice. All investments are subject to risk including the potential loss of principal. No investment strategy can guarantee a profit or protect against loss in periods of declining values. Asset allocation or diversification does not ensure a profit or guarantee against loss; it is a method used to help manage risk.
The content is developed from sources believed to be providing accurate information. The information in this material is not intended as tax or legal advice. It may not be used for the purpose of avoiding any federal tax penalties. Please consult legal or tax professionals for specific information regarding your individual situation. This material was developed and produced by FMG Suite to provide information on a topic that may be of interest. FMG, LLC, is not affiliated with the named broker-dealer, state- or SEC-registered investment advisory firm. The opinions expressed and material provided are for general information, and should not be considered a solicitation for the purchase or sale of any security. Copyright 2022 FMG Suite.