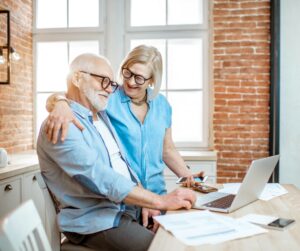 Ready for Retirement? Find out with the 5 Essential Retirement Calculators
At The Retirement Solution, our hope is to provide you with the resources you need to feel confident as you enter your retirement years. We've created five helpful retirement calculators to help you do just that.
By utilizing these free tools, you can enjoy immediate benefits:
• Gauge if you're on track to achieving your post-career hopes and dreams*
• Predict the amount you'll have in retirement in today's dollars*
• Understand how inflation can impact your retirement spending*
5 Essential Retirement Calculators
• The Retirement Savings Calculator.
Estimate the future value of your retirement savings and determine how much you need to save each month to reach your retirement goals.*
• The Simple Savings Calculator.
See how a consistent approach to investing can make your money grow and help you determine the right amount to save on a regular basis to achieve your goal.*
• The Compounding Calculator.
Understand how the interest you earn each year is added to your principal so that the balance doesn't merely grow, it grows at an increasing rate.*
• The Nest Egg Calculator.
Do you know how much you'll have when it's time to retire? Use this calculator to help determine how much you will have saved for your post-career years.*
• Retirement Age Calculator.
Find out what age you could retire based off your current and projected retirement savings, and see how adjusting your projected savings can impact your projected retirement date.*
Utilizing tools like these is a great first step in understanding your unique retirement picture. It's also natural to want to seek personalized guidance as you navigate the complex, ever-changing landscape that is retirement in the modern age. From long-term care to divorce to estate planning, Baby Boomers face a number of financial concerns, as well as complex emotional experiences, in their retirement. If you are feeling overwhelmed or uncertain, visiting with a planner may be a wise next step.
Set yourself up for success in your golden years by signing up for a consultation with one of our certified financial planners today!
*Actual results will depend on current age, how much you have saved for retirement, plan to contribute to your retirement accounts, the rate-of-return on your investments, and amount needed at retirement. This information may help you analyze your financial needs. It is based on information and assumptions provided by you regarding your goals, expectations, and financial situation. The calculations provided should not be construed as financial, legal or tax advice. In addition, such information should not be relied upon as the only source of information. This information is supplied from sources we believe to be reliable, but we cannot guarantee its accuracy. Hypothetical illustrations may provide historical or current performance information. Past performance does not guarantee nor indicate future results.
DA-002291.1