In observance of Independence Day, our offices will be closed July 4th.
With proper planning, you can live your happily ever after in retirement
At The Retirement Solution, our mission is to customize a plan to give you the financial
confidence you need to successfully navigate through your golden years.
Are you on track to live the life you've always dreamed of?
What lifestyle do you picture in retirement? Now, imagine you could live the retirement that you visualize. Sound inconceivable? At The Retirement Solution, we help you realize your hopes and dreams by creating a clear, written plan around the goals that matter most to you. By forecasting future expenses and growth potential to provide income for life, we can help protect your assets from market downturns. This clear, written plan allows you to know exactly how much money you could receive every month of every year until you turn 100 years old. We call that freedom. You may want to call it a dream come true!
As your circumstances change in life, your financial planning needs will change, too. We've designed a Menu of Services so you can choose the level of engagement that best suits your needs. This option allows you to focus on the areas that are most important to you.
From the full suite of services addressing every need of your income plan, to the independent client wanting fundamental and limited services, we look forward to customizing your personal experience and delivering exceptional service that exceeds your expectations.
HAPPILY EVER AFTER, by Jim Black
This book was written with the current retiree in mind. It is one of the first books to recognize that once you get that last paycheck from your employer (the last paycheck for the rest of your life), you need to start seeing your money differently. That fear can be greatly reduced by following the simple, easy to implement strategies and plan that Jim Black shares in this book.
As a retiree, you have spent 40 years or more saving and accumulating assets for retirement. Yet a single down year in the stock market can change your retirement forever. Most retirees think that they need to choose between growth and income, or risk and return, but Jim Black will show you that those options are not mutually exclusive.
Using real life examples and humor, Jim has created a process that helps retirees overcome their basic fears. He has done this is a manner that anyone, regardless of their financial sophistication, should be able to implement for themselves. By reading this book and implementing the strategies, you will greatly increase your chances of retiring on your terms, and living Happily Ever After.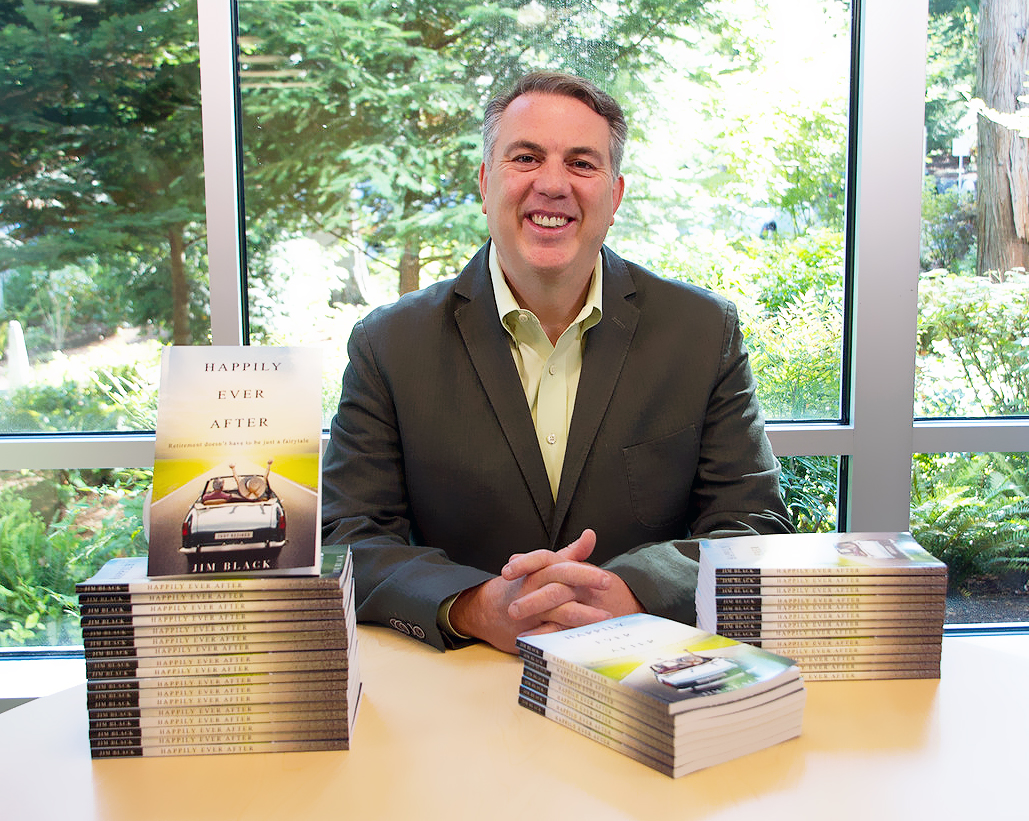 Redmond Office (Headquarters)

Phone: (425) 558-3700
18300 Redmond Way
Ste 100
Redmond, WA 98052
Mon-Fri: 8:00 AM – 5:00 PM
Seattle Office
Phone: (206) 489-0700
800 Fifth Avenue
Ste 4100
Seattle, WA 98104
Mon-Fri: 8:00 AM – 5:00 PM
Tri-Cities Office

Phone: (509) 581-0249
1030 N. Center Parkway
Ste 313
Kennewick, WA 99336
Mon-Fri: 8:00 AM – 5:00 PM
Denver Tech Center Office

Phone: (303) 974-4978
8400 E. Crescent Parkway
Ste 600
Greenwood Village, CO 80111
Mon-Fri: 8:00 AM – 5:00 PM
Mill Creek Office

Phone: (425) 412-8952
1600 Bothell Everett Highway
Ste 175
Mill Creek, WA 98012
Mon-Fri: 8:00 AM – 5:00 PM