If you are unsure of how your spending habits will change throughout your retirement years, you are not alone. Many new retirees are concerned about spending too much too early in their retirement, and they may hold back from spending their hard-earned income. After all, the mindset and habit changes required to shift from working and saving into spending your assets can be difficult.
At TRS, we have learned that helping our clients understand how their spending patterns may change over time can put them at ease so they can spend more confidently.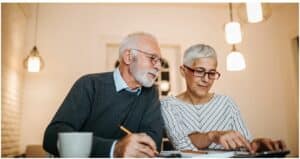 Spending Patterns in Retirement
Your spending habits in early retirement may be quite different from the years you spent working. The Bureau of Labor Statistics figures show an average spending of $60,076 per year for households headed by pre-retirees, or Americans aged 55-64. Once they reach age 65 or older, average spending drops to $45,221. (1)
Once our clients reach retirement, the initial stage is often the most expensive. At TRS, we refer to this early stage of retirement as the "Go-Go" years. We see clients enjoying life's pleasures and fulfilling the dreams they have had for years.
As time goes on, we see clients begin to transition into their "Slow-Go" years, when spending generally decreases. The Government Accountability Office data shows that people aged 75-79 spend 41% less on average than people in their peak spending years (which typically occurs in their late 40s).
Lastly, we see our clients enter their "No-Go" years, typically as they enter their 80s. Travel, activity, and overall spending decrease significantly, and food and medicine are often the primary expenses.
This trajectory is consistent with a 2017 study by the investment firm BlackRock, which found that overall retiree spending declined very slightly over time. Medical expenses only spiked for a small percentage of retirees in the last two years of their lives. (2)
Planning for Your Retirement
So what is the best course for you? How can you predict your own spending patterns and plan accordingly? The short answer is that it depends! Your retirement will be as unique as you are, and it will depend on a variety of factors, including your assets, life expectancy, spending patterns, and personal choices.
A carefully designed strategy can prepare you for retirement and ensure that you can fully enjoy this chapter of your life. To find out exactly how to make a plan that fits you and your life, schedule an appointment with a financial planner today!
Bureau of Labor Statistics, 2019
CBSnews December 26, 2017
The content is developed from sources believed to be providing accurate information. The information in this material is not intended as tax or legal advice. It may not be used for the purpose of avoiding any federal tax penalties. Please consult legal or tax professionals for specific information regarding your individual situation. This material was developed and produced by FMG Suite to provide information on a topic that may be of interest. FMG, LLC, is not affiliated with the named broker-dealer, state- or SEC-registered investment advisory firm. The opinions expressed and material provided are for general information, and should not be considered a solicitation for the purchase or sale of any security. Copyright 2022 FMG Suite.
DA-02277.1